FAÇADE
Windows and Doors Simulator – Facade Design
Replace your Windows and Doors in a virtual way!
Take the guesswork out of doors and windows replacement with the Simulator Façade. Just open the app, take a picture of your house and voila! You're ready to change the design of any exterior walls. Just add any of the ready to use doors and windows available, change the style, add color and grids, design it all yourself with Façade, the Windows and Doors replacement Simulator

Standard – Pro
Try Façade for 7 days, Free
"Façade" is especially made for those who plan to replace their windows and doors. It offers the possibility to view how the replacement will look like, in a virtual way. Façade will save time and facilitate decision making when choosing the type, style and colour of the new windows and doors to be replaced.  See how contemporary or modern style of windows will look like on your house.
Packages for single use or for profesionals
Front doors, patio doors, garage doors, casement windows, sash, sliders and contemporary windows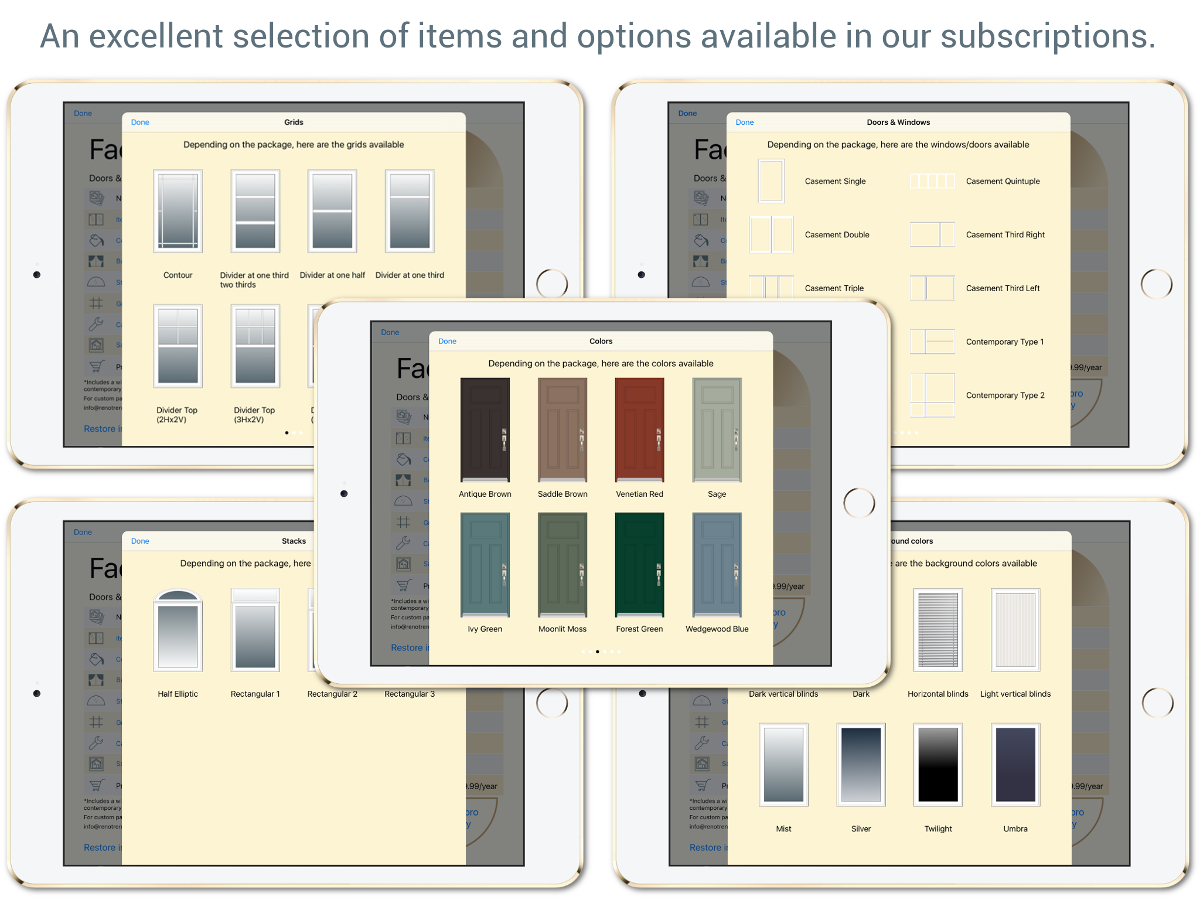 Add colours, grids and separators, change the background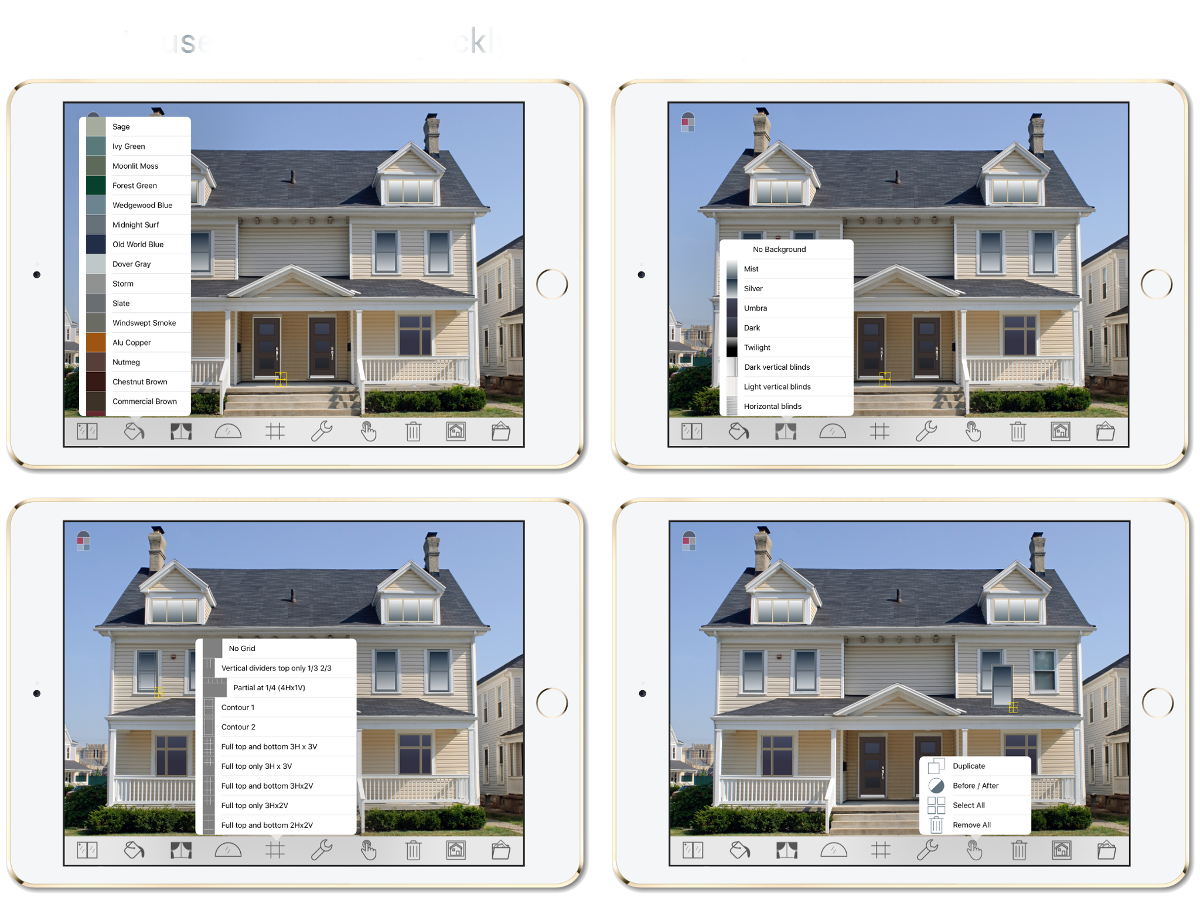 Change the look of any house
With Hundreds of Windows and Doors
Create a beautiful design
With all sorts of Tools and Options
Use the calibration tool
Find a measurement with one known length.
Fin the perfect Design
Discover a new house, become your own Designer
Transformations made with the App
Garage Door and front Door

The original image before Façade

Garage Door and front Door with glass

These new Doors give this house a more modern look and lets more light in

Windows

Lets continue designing this house

Windows with Dividers

We used a brown colour and dividers to get this house to it's completed design.

Google Street image

We need to modernise the look of this house

Google Street image with new doors and windows

New contemporary windows ans doors, brown colour

Windows with grids

This house is stock in another era

Windows with dividers and slate colour doors

A new up to date look for this house, white and slate
Little introduction video
Create a new project
Little introduction video
Add a new window on the canvass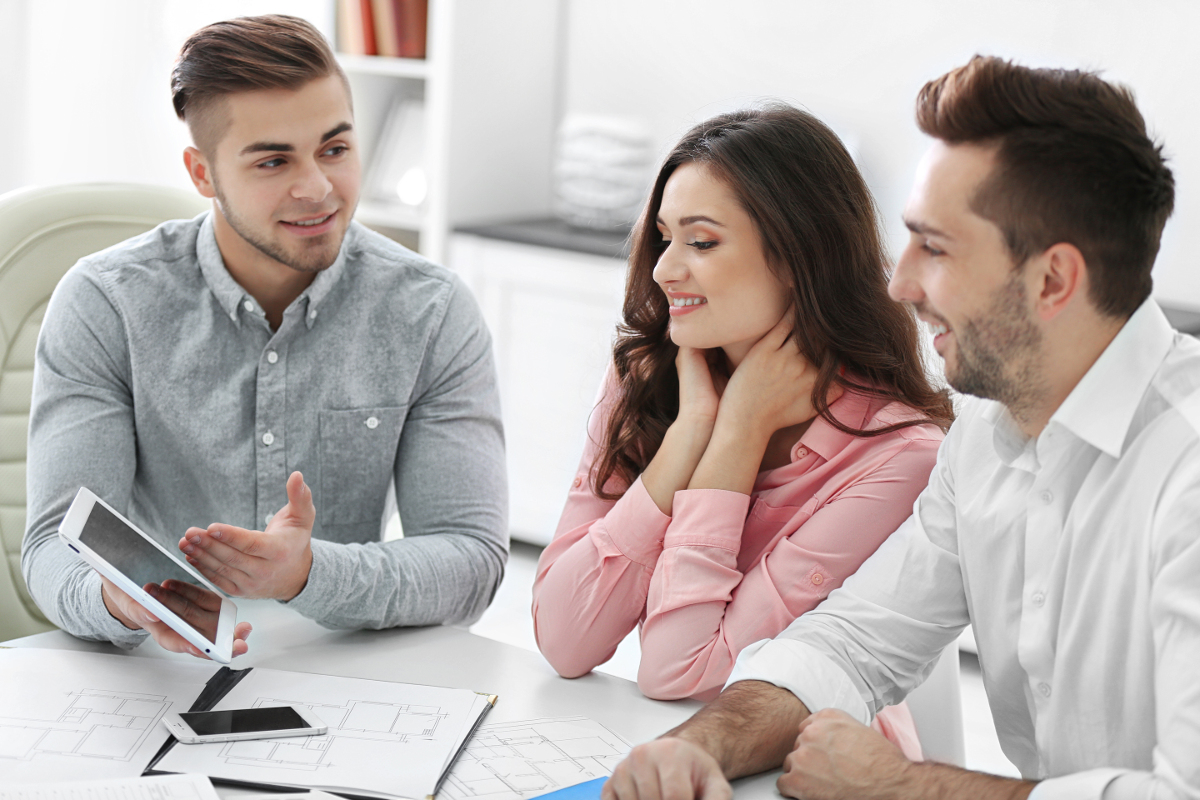 FOR THESE WINDOWS AND DOORS BUSINESSES, CLIENT EXPERIENCE IS IMPORTANT, THAT'S THE REASON WHY THEY INCLUDED FAÇADE IN THEIR SALES PROCESS








A picture is worth a 1000 words
This quotation is obviously not from us but everyone knows that.  Nothing can make it as easy to understand something  like a picture can.  Solidify your market share by bringing your business in today's technological era. Propose a total client service, where client experience is in the center off all, and see your sales soar like never .
Façade Windows and Doors Designer can do that for you.